Many new mums we talk to tell us they stop wearing their jewellery after having children as they just get slobbered and tugged on by their little darlings, causing their precious jewels to break or get damaged.
Our silicone jewellery is made from BPA free, non-toxic food grade silicone which means it's lightweight, it's soft and it's super strong. If it hits the floor (let's face it, it happens)...it won't break. They also have quick release clasps, which means if your little darling just happens to tug away on your necklace you're not going to get strangled. Oh and the best part...they can be washed just like you'd wash a silicone dummy. Meaning...you can start wearing jewels again - RESULT!

Introducing Softies by Ruby Olive, our fabulously soft silicone jewellery 

WHY ARE SOFTIES SO SPECIAL?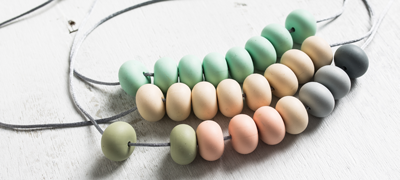 BPA Free Silicone 
 We only use the highest quality 100% food grade silicone in our jewellery. They are also free from nasties such as Lead, Cadmium, Phthalates, PVC and Latex. Our silicone does not absorb odours and it doesn't support the growth of bacteria.

WHAT ARE PEOPLE SAYING ABOUT US
YOU DESERVE TO FEEL GORGEOUS
We think you deserve to feel good EVERYDAY...and having a baby doesn't mean that needs to stop. So sling over your head one of our Softies necklaces and make yourself feel gorgeous - we think you're worth it!
The 100% No-Risk Promise

Order with confidence!

Our 60 Day LOVE Guarantee. 

Order your Softies Necklace today and if it's not quite right send it back within 60 days* and we'll refund your money - no questions asked.  
It's our 60 day LOVE guarantee. There's absolutely no-risk in giving it a try.  
*item needs to be unworn and still be in the original packaging
Ruby Olive Jewellery is one of Australia's favourite colourful jewellery brands. It was started by Chief Dreamer, Skye Anderton, back in 2010 with a vision to create fabulously fun jewellery that puts smiles on faces.   
We are passionate about our vibrant community and our RO family of customers.   We get our jollies from creating affordable, distinctive and fun pieces that inspire confidence and inject shots of joyful energy into whoever wears them.  

Ruby Olive is Skye's grandmother, and this journey has been dedicated to her.
QUESTIONS? COMMENTS? 
WE'RE HERE TO HELP
If you need to contact us with questions, feedback, a testimonial or a suggestion, we'd love to hear from you. Send your emails to Michaela at hello@rubyolive.com.au.  All emails are typically responded to within 24 to 48 hours, except weekends and holidays. 
For all other correspondence:

Ruby Olive Jewellery
PO Box 1694, Carindale
Brisbane QLD 4152 
Australia
Please note: These necklaces have small parts and are not toys for babies.  They are intended for Mums to wear.
Our Softies first featured exclusively in the subscription boxes of Australia's #1 Baby and Parenting website Babyology. They have also featured in Bellabox Baby Subscription Boxes and have proven to be a favourite among bloggers and celebrities.
Subscribe for news, special offers and all round excitement
Copyright © SANDERTON TRUST T/A Ruby Olive Jewellery. All rights reserved.